Have you decided to buy a gaming mouse and need to make a good choice? Read more of this article to learn a simple way on how to choose a good gaming mouse.
How To Choose A Good Gaming Mouse Part 1 – Intro
First of all, you may wonder if a gaming mouse is worth any at all. Well if you are on a very tight budget, better stick with that mouse you have. You want to buy a gaming mouse if you feel the one you have is lacking.
For example, I personally have a Logitech RX 250, not a gaming mouse. I played Lineage 2 (Private C6 Servers mostly) for years and can't say I needed like a mouse with more buttons. I used the keyboard numbers for skills.
If you play Official L2 (which I played for some time), you might need a gaming mouse with more buttons as there are more skills to press than the Interlude C6 Server.
Or if you play WoW, there might be a need to have a mouse with more buttons. Many bars of skills and the keyboard might not have enough buttons to use them all (unless you get a gaming keyboard).
Now that I switched to League Of Legends, I played for some time and the Logitech RX 250 and it just won't move fast enough even though I have mouse sensitivity to maximum. I just need a mouse with more speed.
DPI – Here Comes Mouse Speed
My Logitech RX 250 has Maximum DPI of 1000. That explains it why it can't move enough on my 1080p Monitor. DPI or Dots Per Inch is just a metric which indicates how many pixels will the cursor move on your screen based on an inch of movement from your mouse.
So far I researched, 4000 DPI is enough for a 1080p or even a 1440p Monitor. Unless you want 4K Monitors, you don't need to worry about more then 4000 DPI.
Check out the following YouTube Video for a visual example of how DPI affects the cursor.
DPI Difference YouTube Video
1st Tip – No More Than 4000 DPI Necessary For 1080P Monitor
So the 1st Tip is if you never plan to take a 4K Monitor, 4000 DPI is enough. 4000 DPI might be enough even for 1440P (QHD) Monitors, which mostly competitive esports players use.
Of course if your gaming mouse supports more, that's not a problem. Usually most gaming mice have more then 4000K DPI.
Also, if you have a archaic mouse pad(like mine), make sure to change that as well. You don't want your new gaming mouse on an old, rugged and dirty mouse pad.
Ergonomics
Ergonomics is a fancy word that actually says that the mouse (for gaming) is designed specifically for gamers and for long hour usage without discomfort.
But unfortunately there are many types of hands so it's difficult to make all gaming mice for all hand sizes. So for this part, you can check reviews of other people who bought that or in forums so that that make sure this mouse you are set on buying will fit on your hand.
In this article, for each gaming mouse that I suggest I will put some quotes about hand sizes from forums and shops so you have a better picture.
2nd Tip – Check out Reviews in Shops and Forums For Hand Sizes
If the mouse you are buying is bought by many people in a big online shop like Amazon or Best Buy or other, there will be many reviews on which you can read to get a better picture.
Warranty
It's best if your mouse has 2 year or more warranty. Less than 2 years is acceptable if the mouse is reputable (like a Best Seller or lots of people buying it or a Reputable Brand).
Usually cheap gaming mice have 18 months of warranty which is good.
How To Choose A Good Gaming Mouse Part 2 – Musical Milkshake!
When you go to work, you do breaks. So building a website or writing posts and articles is work too. So you need breaks too. This part is like the lobby where we get to know each other better. You can skip if you want no big deal.
It was so cool when I was watching this Anime. At least I get to enjoy the intro haha.
Today I go for 2 Japanese Intros. Too much nostalgia haha.!
OK. Now some KPop Dance will do some good!
And finally, some music from America. A milkshake with all flavours!
How To Choose A Good Gaming Mouse Part 3 – Grip Info!
In this part I will explain as much information about different types of grips so you know which grip you are using so when you search for your gaming mouse of choice, you know if it supports your type of grip.
Most of the mice supports all types of grips, but some may have some problems here and there with some grips.
There are 3 main grips:
The palm grip, which is most commonly used.
The claw grip, which is less common.
The tip grip, which is the rarest of all.
Palm Grip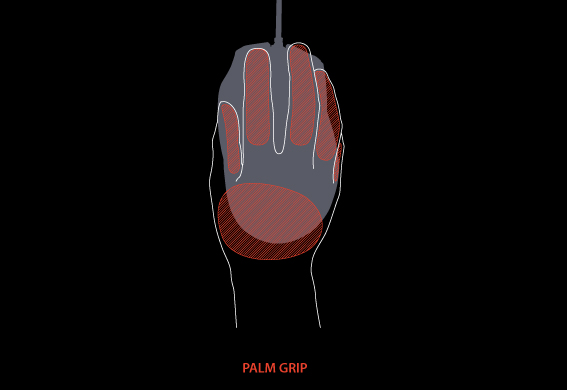 Palm grip is the most popular grip type with the most contact points. All the hand rests in the mouse. Gliding can be accurate with this grip type. However, it may be unsuitable for games that require fast movements.
Check out the following YouTube Video.
Mouse Grips YouTube Video 1
Claw Grip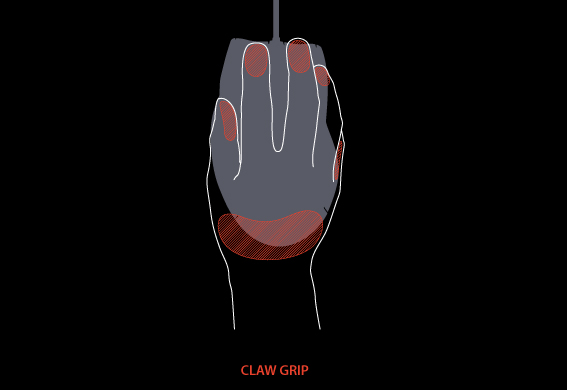 Claw grip, less popular than palm, is like having the front fingers trying to claw the right and left click buttons! I personally use a claw grip but is a mix with next type of grip, the fingertip.
Check out the 2nd YouTube Video about Grip Styles.
Mouse Grips YouTube Video 2
On to the next grip, the tip grip.
Tip Grip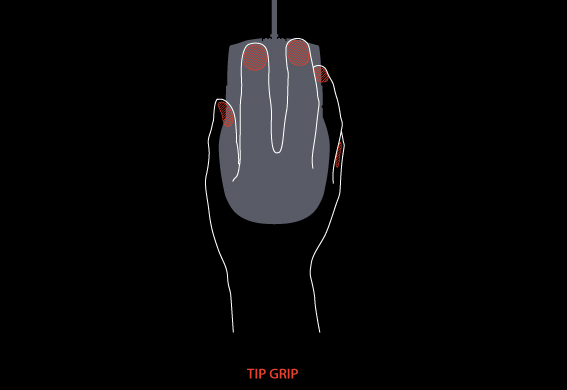 Tip grip is the most extreme grip type of the three, with minimal contact points between the hand and the mouse. This type of grip is only using the tip of the fingers to steer the entire mouse in extremely rapid movements with the least restrain of the hand and wrist.
My Suggestions – Right Handed
1) Pictek T7 – Cheap Gaming Mouse
If you are low on budget and need something cheap but also with good reviews and rating, I suggest you get the Pictek T7.
2) Logitech G203 Prodigy
If you don't play MMOs, I suggest you get the Logitech G203 Prodigy. Pretty solid mouse and from a brand I prefer.
3) Logitech G600 MMO Gaming Mouse
If you generally play all kinds of games, you should get the Logitech G600 MMO Gaming Mouse.
Generally you can assume I'm a Logitech guy but not without a reason. They have gaming mice in low price ranges which are pretty solid and have longetivity.
Lately I'm starting to like the Redragon brand. Their gear is getting lots of good reviews and rating.
My Suggestions – Ambidextrous
My current suggestion on an ambidextrous gaming mouse is the Steelseries Rival 110.
How To Choose A Good Gaming Mouse – Conclusion
There is not really a need to buy an expensive gaming mouse. For example, with the Logitech G203 Prodigy there was a reviewer who played at SMFC rank at CS:GO.
Sources
http://www.epicgear.com/en/technologies/types-of-mouse-grip